ART & LEFT-WING PROPAGANDA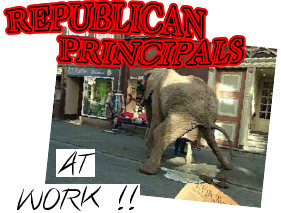 [At Work]

A Thank-You note to PhillyBits
Philly said some kind words about my images. I didn't do a very good job on the latest one, but I saw someone on the Vine posting about "Returning to Their Principals" ..... I'm afraid I couldn't find just the right image of the Constitution for this one.




Still my favorite one.

Some from storage :


MY IMAGE SHACK PAGES
MY PHOTO BUCKET PAGES